Lone Oak Large Animal Veterinary Services supplies a complete line of nutritional supplements designed to meet the needs of your horse. Click on the links below to see which one is right for yours.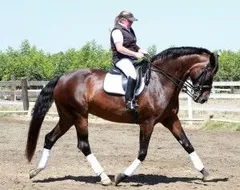 Horse Guard Products
Horse Guard Inc. was founded in 1978 by Certified Equine Nutritionist Del Johnson. Horse Guard products use the highest quality ingredients available to provide complete nutrition for all classes of horses.
Platinum Performance
www.platinumperformance.com/equine
Platinum Performance was developed in 1996 by veterinarian Doug Herthel at Alamo Pintado Equine Medical Center. They carry a wide range of supplements for all aspects of equine nutrition. Lone Oak Large Animal Veterinary Services can arrange to have Platimum Performance products shipped directly to you.
Equi Aid Natural Psyllium Pellets
Natural psyllium fiber pellets aid in the prevention of sand colic. The psyllium is a gel-forming fiber that absorbs moisture to soften the stool and add bulk – to keep things moving through your horse's intestinal tract, especially heavy particles like sand and grit.