Lone Oak Large Animal Veterinary Services is proud to serve the Visalia, CA area for everything animal-related. Our veterinary clinic and animal hospital is run by licensed, experienced Visalia Doctors of Veterinary Medicine:
Dr. Migliore J. Migliore, D.V.M.

Dr. Migliore grew up on his family's farm in Livermore, California. He graduated from Cal Poly, San Luis Obispo with his degree in Animal Science, and in 1976 graduated from UC Davis School of Veterinary Medicine. He has been practicing at Lone Oak Large Animal Veterinary Services since that time.
Dr. Migliore's special interests in equine medicine are lameness and all aspects of equine reproduction. He also enjoys the bovine side of practice, with special interest in reproductive efficiency on a herd basis.
For recreation Dr. Migliore maintains a small herd of cutting horses that compete at the national level.
Kenneth M. Fiser, D.V.M.

Dr. Fiser grew up on a small family farm in Atwater, California. He attended UC Riverside, and graduated from UC Davis School of Veterinary Medicine in 1986. He has been with Lone Oak Large Animal Veterinary Services since graduation.
Dr. Fiser enjoys the variety that comes with working in a mixed large animal practice. His special interests lie in equine internal medicine, dairy milk quality and mastitis prevention.
He currently resides in Visalia, California with his wife, who is also a veterinarian, and their two teenage children. Dr. Fiser spends most of his spare time with his family, which usually involves some type of sport: he can be found playing, coaching, and cheering on his kids in baseball and volleyball. He also enjoys spending time snow skiing and traveling to places of historical significance.
Brent Pascoe, D.V.M.

Dr. Pascoe was raised right here in Tulare County in the small town of Lemoncove. He grew up working on many cow/calf ranches throughout the state including his family's operation in Glennville, California. He attended Cal Poly San Luis Obispo where he graduated with a Bachelor's of Science degree in Animal Science in 2009. He then attended UC Davis and graduated with a doctorate in Veterinary Medicine in 2015.
Dr. Pascoe enjoys being able to work with both equine and bovine patients/herds but has special interests in equine lameness, dentistry, and all aspects of reproduction.
Dr. Pascoe currently resides in Woodlake, California with his wife Shelly. When he is not working at the clinic he enjoys helping out friends and family on the ranch with cattle work. He and his wife love to rope, hunt and fish with any spare time they have. You can also find him helping his in-laws who run a pack-station in the Eastern Sierras out of June Lake, California. Other hobbies include water/snow skiing, leather crafting, wood working, or just spending good time with friends and family.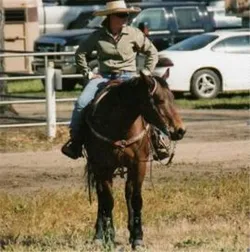 Rebecca Domenigoni, D.V.M.Dr. Becky grew up on her family's farming and ranching operation in Winchester, California. She received her Bachelor's degree in Animal Science in 2005, her teaching credential in 2006, and her Master's of Art in Education in 2007 from U.C. Davis. After teaching high school agriculture education for a couple of years she returned to southern California and received her doctorate in Veterinary Medicine from Western University of Health Sciences in 2013. She joined Lone Oak Large Animal in February 2018.
Dr. Becky enjoys all large animal species but her special interests are small ruminants and swine (miniature and production varities).
In her free time, she works on her family's cow-calf operation in Elderwood and enjoys baking, crafting, snow & water sports, and spending time with her husband, their horses, and their 6 dogs!
At Lone Oak Large Animal Veterinary Services, we treat your animals like the valued family members they are. Our team is committed to educating our clients on how to keep your animals healthy year round, with good nutrition and exercise. Lone Oak Large Animal Veterinary Services stays on top of the latest advances in veterinary technology and above all, remembers that all animals and animals need to be treated with loving care in every check-up, procedure, or surgery.

We are happy to offer a number of resources that enable you to learn about how to take better care of your animals. Please feel free to browse our site, particularly the services page. The best veterinary care for animals is ongoing nutrition and problem prevention, so becoming knowledgeable about preventative animals care is essential to the ongoing success of your animal's health. If you have any questions, call (559) 732-4810 or email us and we'll promptly get back to you. Our Visalia veterinary office is very easy to get to -- just check out the map below!